"Having ADD makes life paradoxical. You can superfocus sometimes, but also space out when you least mean to. You can radiate confidence and also feel as insecure as a cat in a kennel. You can perform at the highest level, feeling incompetent as you do so. You can be loved by many, but feel as if no one really likes you. You can absolutely, totally, intend to do something, then forget to do it. You can have the greatest ideas in the world, but feel as if you can't accomplish a thing."
 ADHD is…
a highly genetic, brain-based syndrome that has to do with the regulation of a particular set of brain functions and related behaviors.
These brain operations are collectively referred to as "executive functioning skills" and include important functions such as…
attention

concentration

memory

motivation

 effort

learning from mistakes

impulsivity

hyperactivity

organization social skills.

  
There are various contributing factors that play a role in these challenges including chemicaland structural differences in the brain as well as genetics
.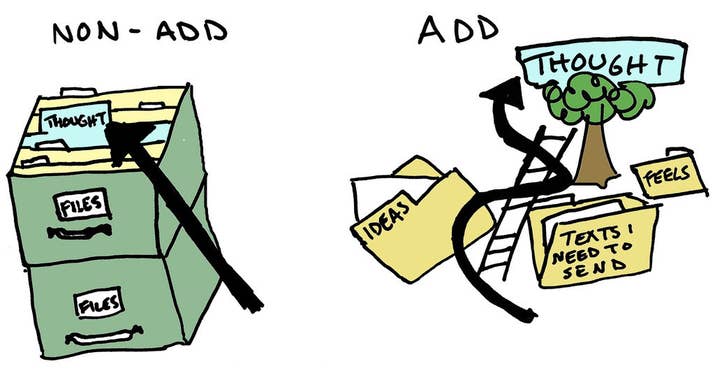 Difficulty paying attention or focusing, such as when reading or listening to others.

"Zoning out" without realizing it, even in the middle of a conversation.

Struggling to complete tasks, even ones that seem simple.

A tendency to overlook details, leading to errors or incomplete work.

Poor listening skills.

Have a hard time remembering conversations and following directions.

Extreme distractibility OR hyperfocus.

Wandering attention, or overfocusing; both can make it hard to stay on track.
ADHD was the first disorder found to be the result of a deficiency of a specific neurotransmitter — in this case, norepinephrine — and the first disorder found to respond to medications to correct this underlying deficiency.
Like all neurotransmitters, norepinephrine is synthesized within the brain. The basic building block of each norepinephrine molecule is dopa; this tiny molecule is converted into dopamine, which, in turn, is converted into norepinephrine. *from www.attitudemag.com*
What are the treatment options?
Stimulants.
The most common type of medication used for treating ADHD is called a "stimulant." Although it may seem unusual to treat ADHD with a medication that is considered a stimulant, it works because it increases the brain chemicals dopamine and norepinephrine, which play essential roles in thinking and attention.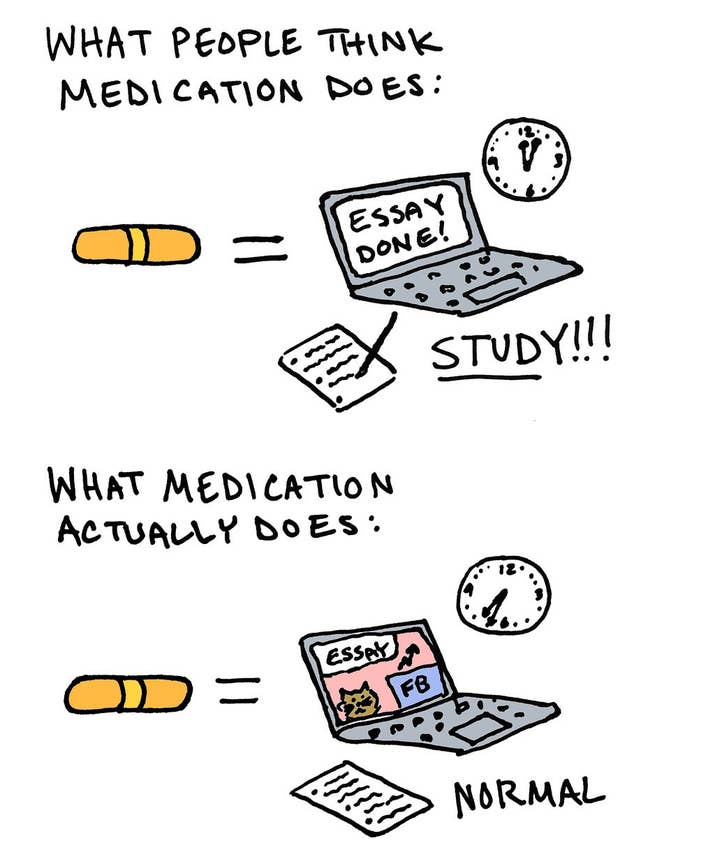 Non-stimulants. A few other ADHD medications are non-stimulants. These medications take longer to start working than stimulants, but can also improve focus, attention, and impulsivity in a person with ADHD. Doctors may prescribe a non-stimulant: when a person has bothersome side effects from stimulants; when a stimulant was not effective; or in combination with a stimulant to increase effectiveness.
Although not approved by the U.S. Food and Drug Administration (FDA) specifically for the treatment of ADHD, some antidepressants are sometimes used alone or in combination with a stimulant to treat ADHD. Antidepressants may help all of the symptoms of ADHD and can be prescribed if a patient has bothersome side effects from stimulants. Antidepressants can be helpful in combination with stimulants if a patient also has another condition, such as an anxiety disorder, depression, or another mood disorder.
Adding psychotherapy to treat ADHD can help patients and their families to better cope with everyday problems.
Behavioral therapy is a type of psychotherapy that aims to help a person change his or her behavior. It might involve practical assistance, such as help organizing tasks or completing schoolwork, or working through emotionally difficult events. Behavioral therapy also teaches a person how to:
monitor his or her own behavior
give oneself praise or rewards for acting in a desired way, such as controlling anger or thinking before acting
Parents, teachers, and family members also can give positive or negative feedback for certain behaviors and help establish clear rules, chore lists, and other structured routines to help a person control his or her behavior. Therapists may also teach children social skills, such as how to wait their turn, share toys, ask for help, or respond to teasing. Learning to read facial expressions and the tone of voice in others, and how to respond appropriately can also be part of social skills training.
Cognitive behavioral therapy can also teach a person mindfulness techniques, or meditation. A person learns how to be aware and accepting of one's own thoughts and feelings to improve focus and concentration. The therapist also encourages the person with ADHD to adjust to the life changes that come with treatment, such as thinking before acting, or resisting the urge to take unnecessary risks.